---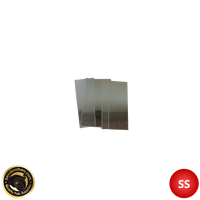 Weld Practice Kit - Stainless Steel Flat Coupons
Bend Brothers
Tig welding, like any skill, takes significant time underneath the hood to perfect your welds into glowing stacks of dimes. 
The simplest way to dial in your tig is by practising on cut-up tube sections or flat coupons, but we are all a little short on time in this world ⏲ so spending it cutting and prepping material isn't the most brilliant idea.
This wasn't an option, so we have designed tig weld practice kits to save you time by pre-prepping all coupons ready for you to tig weld from the packet!
Product: Stainless Weld Practice Kit - Flat Coupons
Material: 304 Grade Stainless Sheet 
Quantity: 5x coupons
What you get: 1 Kit containing 5x pre-cleaned & prepped flat coupons. 
---
You might also like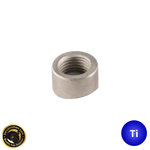 Bend Brothers
{"id":395687952414,"title":"Titanium O2 Oxygen Sensor Bung M18x1.5 | Pre-Notched","handle":"titanium-c02-weld-on-bung","description":"\u003ch1\u003eASTM B861 Grade Titanium Weld-On Bung Fits 3\", 3.5\" \u0026amp; 4\" \u003ca href=\"https:\/\/bendbrothers.com.au\/collections\/titanium-straight-tube\" title=\"Titanium-Straight-Exhaust-Tube\"\u003eTube\u003c\/a\u003e \u003c\/h1\u003e\n\u003ch2\u003eProduct: Grade 2 Titanium Weld-On O2 Oxygen Sensor Bung \u003c\/h2\u003e\n\u003ch2\u003eMaterial: Grade 2 Titanium\u003c\/h2\u003e\n\u003ch2\u003eTotal Quantity: 1 \u003c\/h2\u003e\n\u003ch2\u003eThread: M18 x 1.5\u003c\/h2\u003e\n\u003cp\u003e \u003c\/p\u003e\n\u003cp\u003e \u003c\/p\u003e","published_at":"2017-12-09T23:54:08+10:00","created_at":"2017-12-09T23:54:08+10:00","vendor":"Bend Brothers","type":"Weld On Bung","tags":["3RD\/","Co2 Sensor","Lambda","M18x1.5mm","Oxygen Sensor","Sensor Bung","Titanium Bung","Trade","Trade-all","Trade-silver","Tradegold","Weld On Bung"],"price":1700,"price_min":1700,"price_max":1700,"available":true,"price_varies":false,"compare_at_price":null,"compare_at_price_min":0,"compare_at_price_max":0,"compare_at_price_varies":false,"variants":[{"id":5435387510814,"title":"Default Title","option1":"Default Title","option2":null,"option3":null,"sku":"","requires_shipping":true,"taxable":true,"featured_image":null,"available":true,"name":"Titanium O2 Oxygen Sensor Bung M18x1.5 | Pre-Notched","public_title":null,"options":["Default Title"],"price":1700,"weight":500,"compare_at_price":null,"inventory_quantity":8,"inventory_management":"shopify","inventory_policy":"deny","barcode":"","requires_selling_plan":false,"selling_plan_allocations":[]}],"images":["\/\/bendbrothers.us\/cdn\/shop\/products\/02-Bung-Notched-Titanium.png?v=1633570878"],"featured_image":"\/\/bendbrothers.us\/cdn\/shop\/products\/02-Bung-Notched-Titanium.png?v=1633570878","options":["Title"],"media":[{"alt":null,"id":22720091947185,"position":1,"preview_image":{"aspect_ratio":1.0,"height":2048,"width":2048,"src":"\/\/bendbrothers.us\/cdn\/shop\/products\/02-Bung-Notched-Titanium.png?v=1633570878"},"aspect_ratio":1.0,"height":2048,"media_type":"image","src":"\/\/bendbrothers.us\/cdn\/shop\/products\/02-Bung-Notched-Titanium.png?v=1633570878","width":2048}],"requires_selling_plan":false,"selling_plan_groups":[],"content":"\u003ch1\u003eASTM B861 Grade Titanium Weld-On Bung Fits 3\", 3.5\" \u0026amp; 4\" \u003ca href=\"https:\/\/bendbrothers.com.au\/collections\/titanium-straight-tube\" title=\"Titanium-Straight-Exhaust-Tube\"\u003eTube\u003c\/a\u003e \u003c\/h1\u003e\n\u003ch2\u003eProduct: Grade 2 Titanium Weld-On O2 Oxygen Sensor Bung \u003c\/h2\u003e\n\u003ch2\u003eMaterial: Grade 2 Titanium\u003c\/h2\u003e\n\u003ch2\u003eTotal Quantity: 1 \u003c\/h2\u003e\n\u003ch2\u003eThread: M18 x 1.5\u003c\/h2\u003e\n\u003cp\u003e \u003c\/p\u003e\n\u003cp\u003e \u003c\/p\u003e"}
[{"id":77634666590,"handle":"all","title":"All","updated_at":"2023-12-01T16:10:05+10:00","body_html":"","published_at":"2018-10-01T09:38:24+10:00","sort_order":"best-selling","template_suffix":null,"disjunctive":false,"rules":[{"column":"variant_price","relation":"greater_than","condition":"0"}],"published_scope":"global"},{"id":155706818654,"handle":"titanium","title":"All Titanium Products","updated_at":"2023-12-01T12:45:13+10:00","body_html":"\u003ch1\u003eAll Bend Brothers Titanium products. Mandrel bends, straight tube, pie cuts, reducers, v-band kits, muffler parts, bungs, sheet\/plate and much more.\u003cbr\u003e\n\u003c\/h1\u003e","published_at":"2019-12-03T12:21:22+10:00","sort_order":"best-selling","template_suffix":"","disjunctive":true,"rules":[{"column":"tag","relation":"equals","condition":"Titanium"},{"column":"tag","relation":"equals","condition":"ti"},{"column":"tag","relation":"equals","condition":"gr2"},{"column":"tag","relation":"equals","condition":"grade 2"},{"column":"title","relation":"contains","condition":"titanium"}],"published_scope":"global","image":{"created_at":"2019-12-03T12:24:11+10:00","alt":null,"width":2048,"height":2048,"src":"\/\/bendbrothers.us\/cdn\/shop\/collections\/IMG_2111.jpg?v=1676439699"}},{"id":163179331678,"handle":"co2-bungs","updated_at":"2023-11-25T18:55:05+10:00","published_at":"2020-10-06T09:37:24+10:00","sort_order":"price-asc","template_suffix":"","published_scope":"global","title":"O2 Bung's","body_html":"\u003cp\u003eSelection of our latest O2 \u0026amp; weld-on bung range.\u003c\/p\u003e","image":{"created_at":"2023-02-15T14:43:56+10:00","alt":null,"width":2048,"height":2048,"src":"\/\/bendbrothers.us\/cdn\/shop\/collections\/C02_Bungs_Collection_Image.jpg?v=1676437292"}},{"id":392462074102,"handle":"third-strike-fab","title":"Third Strike Fab","updated_at":"2023-12-01T16:10:05+10:00","body_html":"","published_at":"2022-03-28T11:58:49+10:00","sort_order":"best-selling","template_suffix":"","disjunctive":false,"rules":[{"column":"tag","relation":"equals","condition":"3RD\/"}],"published_scope":"web"},{"id":392462008566,"handle":"trade-all","title":"Trade all","updated_at":"2023-12-01T16:10:05+10:00","body_html":"","published_at":"2022-03-28T11:57:41+10:00","sort_order":"best-selling","template_suffix":"","disjunctive":false,"rules":[{"column":"tag","relation":"equals","condition":"Trade-all"}],"published_scope":"web"},{"id":392462041334,"handle":"trade-gold","title":"Trade gold","updated_at":"2023-12-01T16:10:05+10:00","body_html":"","published_at":"2022-03-28T11:58:09+10:00","sort_order":"best-selling","template_suffix":"","disjunctive":false,"rules":[{"column":"tag","relation":"equals","condition":"Tradegold"}],"published_scope":"web"},{"id":392461746422,"handle":"trade-products","title":"Trade products","updated_at":"2023-12-01T16:10:05+10:00","body_html":"","published_at":"2022-03-28T12:10:26+10:00","sort_order":"best-selling","template_suffix":"","disjunctive":false,"rules":[{"column":"tag","relation":"equals","condition":"Trade"}],"published_scope":"web"}]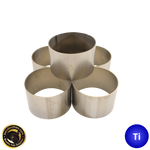 Bend Brothers
{"id":6629636833457,"title":"Tig Weld Practice Kit - Titanium Tube Coupons","handle":"titanium-weld-practice-kit-tube-coupons","description":"\u003ch1\u003eTig welding like any skill takes a large amount of time underneath the hood to perfect your welds into glowing stacks of dimes. \u003c\/h1\u003e\n\u003ch1\u003eThe simplest way to dial in your tig is by practising on cut-up tube sections or flat coupons, but we are all a little short on time in this world ⏲ so spending it cutting and prepping material isn't always the smartest idea.\u003c\/h1\u003e\n\u003ch1\u003eThis wasn't an option so we have designed tig weld practice kits to save you time by pre-prepping all coupons ready for you to tig weld from the packet!\u003c\/h1\u003e\n\u003ch1\u003e \u003c\/h1\u003e\n\u003ch2\u003eProduct: Titanium Weld Practice Kit - Tube Coupons Includes Filler Wire\u003c\/h2\u003e\n\u003ch2\u003eMaterial: Grade 2 Titanium tube \u0026amp; Gr2 Titanium Weld Filler Wire\u003c\/h2\u003e\n\u003ch2\u003eQuantity: 5x coupons \u0026amp; 25g of titanium filler wire\u003c\/h2\u003e\n\u003ch2\u003eWhat you get: 1 Kit containing 5x pre-cleaned \u0026amp; prepped tube coupons and 25g's of filler wire. \u003c\/h2\u003e","published_at":"2021-04-05T10:00:02+10:00","created_at":"2021-04-02T08:40:36+10:00","vendor":"Bend Brothers","type":"Weld Practice Kit","tags":["3RD\/","gr2","grade 2","Ready to weld","Tig","Tig weld","Tig Weld Practice Pack","Tig Welding","Titanium","Trade-all","tube"],"price":4300,"price_min":4300,"price_max":4300,"available":true,"price_varies":false,"compare_at_price":null,"compare_at_price_min":0,"compare_at_price_max":0,"compare_at_price_varies":false,"variants":[{"id":39530835771569,"title":"Default Title","option1":"Default Title","option2":null,"option3":null,"sku":"","requires_shipping":true,"taxable":true,"featured_image":null,"available":true,"name":"Tig Weld Practice Kit - Titanium Tube Coupons","public_title":null,"options":["Default Title"],"price":4300,"weight":500,"compare_at_price":null,"inventory_quantity":2,"inventory_management":"shopify","inventory_policy":"deny","barcode":"","requires_selling_plan":false,"selling_plan_allocations":[]}],"images":["\/\/bendbrothers.us\/cdn\/shop\/products\/Tig-Weld-Practice-Kit-Titanium.png?v=1658728456"],"featured_image":"\/\/bendbrothers.us\/cdn\/shop\/products\/Tig-Weld-Practice-Kit-Titanium.png?v=1658728456","options":["Title"],"media":[{"alt":null,"id":30031585804534,"position":1,"preview_image":{"aspect_ratio":1.0,"height":2048,"width":2048,"src":"\/\/bendbrothers.us\/cdn\/shop\/products\/Tig-Weld-Practice-Kit-Titanium.png?v=1658728456"},"aspect_ratio":1.0,"height":2048,"media_type":"image","src":"\/\/bendbrothers.us\/cdn\/shop\/products\/Tig-Weld-Practice-Kit-Titanium.png?v=1658728456","width":2048}],"requires_selling_plan":false,"selling_plan_groups":[],"content":"\u003ch1\u003eTig welding like any skill takes a large amount of time underneath the hood to perfect your welds into glowing stacks of dimes. \u003c\/h1\u003e\n\u003ch1\u003eThe simplest way to dial in your tig is by practising on cut-up tube sections or flat coupons, but we are all a little short on time in this world ⏲ so spending it cutting and prepping material isn't always the smartest idea.\u003c\/h1\u003e\n\u003ch1\u003eThis wasn't an option so we have designed tig weld practice kits to save you time by pre-prepping all coupons ready for you to tig weld from the packet!\u003c\/h1\u003e\n\u003ch1\u003e \u003c\/h1\u003e\n\u003ch2\u003eProduct: Titanium Weld Practice Kit - Tube Coupons Includes Filler Wire\u003c\/h2\u003e\n\u003ch2\u003eMaterial: Grade 2 Titanium tube \u0026amp; Gr2 Titanium Weld Filler Wire\u003c\/h2\u003e\n\u003ch2\u003eQuantity: 5x coupons \u0026amp; 25g of titanium filler wire\u003c\/h2\u003e\n\u003ch2\u003eWhat you get: 1 Kit containing 5x pre-cleaned \u0026amp; prepped tube coupons and 25g's of filler wire. \u003c\/h2\u003e"}
[{"id":77634666590,"handle":"all","title":"All","updated_at":"2023-12-01T16:10:05+10:00","body_html":"","published_at":"2018-10-01T09:38:24+10:00","sort_order":"best-selling","template_suffix":null,"disjunctive":false,"rules":[{"column":"variant_price","relation":"greater_than","condition":"0"}],"published_scope":"global"},{"id":155706818654,"handle":"titanium","title":"All Titanium Products","updated_at":"2023-12-01T12:45:13+10:00","body_html":"\u003ch1\u003eAll Bend Brothers Titanium products. Mandrel bends, straight tube, pie cuts, reducers, v-band kits, muffler parts, bungs, sheet\/plate and much more.\u003cbr\u003e\n\u003c\/h1\u003e","published_at":"2019-12-03T12:21:22+10:00","sort_order":"best-selling","template_suffix":"","disjunctive":true,"rules":[{"column":"tag","relation":"equals","condition":"Titanium"},{"column":"tag","relation":"equals","condition":"ti"},{"column":"tag","relation":"equals","condition":"gr2"},{"column":"tag","relation":"equals","condition":"grade 2"},{"column":"title","relation":"contains","condition":"titanium"}],"published_scope":"global","image":{"created_at":"2019-12-03T12:24:11+10:00","alt":null,"width":2048,"height":2048,"src":"\/\/bendbrothers.us\/cdn\/shop\/collections\/IMG_2111.jpg?v=1676439699"}},{"id":392462074102,"handle":"third-strike-fab","title":"Third Strike Fab","updated_at":"2023-12-01T16:10:05+10:00","body_html":"","published_at":"2022-03-28T11:58:49+10:00","sort_order":"best-selling","template_suffix":"","disjunctive":false,"rules":[{"column":"tag","relation":"equals","condition":"3RD\/"}],"published_scope":"web"},{"id":392462008566,"handle":"trade-all","title":"Trade all","updated_at":"2023-12-01T16:10:05+10:00","body_html":"","published_at":"2022-03-28T11:57:41+10:00","sort_order":"best-selling","template_suffix":"","disjunctive":false,"rules":[{"column":"tag","relation":"equals","condition":"Trade-all"}],"published_scope":"web"},{"id":264910635185,"handle":"weld-practice-kits","title":"Weld Practice Kits","updated_at":"2023-11-25T06:25:39+10:00","body_html":"Practising your Tig ( Tungsten Inert Gas) welding, Mig ( Metal Inert Gas) welding , Oxy welding or even stick welding will lead to you achieving a much higher weld quality and also help you speed up your processes, such as filler rod feeding technique or torch weld puddle control.","published_at":"2021-04-05T07:14:22+10:00","sort_order":"price-asc","template_suffix":"","disjunctive":false,"rules":[{"column":"tag","relation":"equals","condition":"Tig Weld Practice Pack"}],"published_scope":"global","image":{"created_at":"2021-04-05T07:14:20+10:00","alt":null,"width":1080,"height":1080,"src":"\/\/bendbrothers.us\/cdn\/shop\/collections\/Practice_kits.jpg?v=1617570861"}}]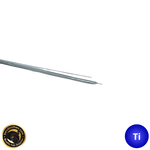 Bend Brothers
{"id":509664591902,"title":"50g - 1mm Grade 2 Titanium Filler Wire - Straight","handle":"1mm-grade-2-titanium-filler-wire-50g","description":"\u003cmeta charset=\"utf-8\"\u003e\n\u003cp\u003e1mm Grade 2 Titanium Straight filler wire \u003c\/p\u003e\n\u003cp\u003ePerfectly matched to any and all Bend Brothers Titanium products\u003c\/p\u003e\n\u003cp\u003eBend Brothers Titanium filler wire is available in 50g, 100g, 200g, 500g \u0026amp; 1kg amounts\u003c\/p\u003e\n\u003cp\u003e \u003c\/p\u003e\n\u003cp\u003eProduct: 50g Grade 2 Titanium filler wire straight lengths\u003c\/p\u003e\n\u003cp\u003eMaterial: Grade 2 Titanium\u003c\/p\u003e\n\u003cp\u003eDimensions: 1mm x 1mm x 500mm x 30pcs\u003c\/p\u003e\n\u003cp\u003eTotal Quantitiy: 30pcs 500mm Long\u003c\/p\u003e\n\u003cp\u003eWhat You Get: 30pcs Grade 2 Titanium straight filler wire ultrasonically cleaned \u0026amp; packaged for out of the packet welding\u003c\/p\u003e","published_at":"2018-03-14T07:56:15+10:00","created_at":"2018-02-01T13:52:40+10:00","vendor":"Bend Brothers","type":"Titanium Filler Wire","tags":["1mm","3RD\/","Filler wire","gr2","grade 2","Tig","Titanium","Trade","Trade-all","Trade-silver","Tradegold"],"price":1300,"price_min":1300,"price_max":1300,"available":true,"price_varies":false,"compare_at_price":null,"compare_at_price_min":0,"compare_at_price_max":0,"compare_at_price_varies":false,"variants":[{"id":7236079812638,"title":"Default Title","option1":"Default Title","option2":null,"option3":null,"sku":"","requires_shipping":true,"taxable":true,"featured_image":null,"available":true,"name":"50g - 1mm Grade 2 Titanium Filler Wire - Straight","public_title":null,"options":["Default Title"],"price":1300,"weight":500,"compare_at_price":null,"inventory_quantity":3,"inventory_management":"shopify","inventory_policy":"deny","barcode":"","requires_selling_plan":false,"selling_plan_allocations":[]}],"images":["\/\/bendbrothers.us\/cdn\/shop\/products\/Titanium-Filler-Wire-Straight_59bfbfd6-31e1-435c-8335-ccbe60d22093.png?v=1658468926"],"featured_image":"\/\/bendbrothers.us\/cdn\/shop\/products\/Titanium-Filler-Wire-Straight_59bfbfd6-31e1-435c-8335-ccbe60d22093.png?v=1658468926","options":["Title"],"media":[{"alt":null,"id":30014123639030,"position":1,"preview_image":{"aspect_ratio":1.0,"height":2048,"width":2048,"src":"\/\/bendbrothers.us\/cdn\/shop\/products\/Titanium-Filler-Wire-Straight_59bfbfd6-31e1-435c-8335-ccbe60d22093.png?v=1658468926"},"aspect_ratio":1.0,"height":2048,"media_type":"image","src":"\/\/bendbrothers.us\/cdn\/shop\/products\/Titanium-Filler-Wire-Straight_59bfbfd6-31e1-435c-8335-ccbe60d22093.png?v=1658468926","width":2048}],"requires_selling_plan":false,"selling_plan_groups":[],"content":"\u003cmeta charset=\"utf-8\"\u003e\n\u003cp\u003e1mm Grade 2 Titanium Straight filler wire \u003c\/p\u003e\n\u003cp\u003ePerfectly matched to any and all Bend Brothers Titanium products\u003c\/p\u003e\n\u003cp\u003eBend Brothers Titanium filler wire is available in 50g, 100g, 200g, 500g \u0026amp; 1kg amounts\u003c\/p\u003e\n\u003cp\u003e \u003c\/p\u003e\n\u003cp\u003eProduct: 50g Grade 2 Titanium filler wire straight lengths\u003c\/p\u003e\n\u003cp\u003eMaterial: Grade 2 Titanium\u003c\/p\u003e\n\u003cp\u003eDimensions: 1mm x 1mm x 500mm x 30pcs\u003c\/p\u003e\n\u003cp\u003eTotal Quantitiy: 30pcs 500mm Long\u003c\/p\u003e\n\u003cp\u003eWhat You Get: 30pcs Grade 2 Titanium straight filler wire ultrasonically cleaned \u0026amp; packaged for out of the packet welding\u003c\/p\u003e"}
[{"id":77634666590,"handle":"all","title":"All","updated_at":"2023-12-01T16:10:05+10:00","body_html":"","published_at":"2018-10-01T09:38:24+10:00","sort_order":"best-selling","template_suffix":null,"disjunctive":false,"rules":[{"column":"variant_price","relation":"greater_than","condition":"0"}],"published_scope":"global"},{"id":155706818654,"handle":"titanium","title":"All Titanium Products","updated_at":"2023-12-01T12:45:13+10:00","body_html":"\u003ch1\u003eAll Bend Brothers Titanium products. Mandrel bends, straight tube, pie cuts, reducers, v-band kits, muffler parts, bungs, sheet\/plate and much more.\u003cbr\u003e\n\u003c\/h1\u003e","published_at":"2019-12-03T12:21:22+10:00","sort_order":"best-selling","template_suffix":"","disjunctive":true,"rules":[{"column":"tag","relation":"equals","condition":"Titanium"},{"column":"tag","relation":"equals","condition":"ti"},{"column":"tag","relation":"equals","condition":"gr2"},{"column":"tag","relation":"equals","condition":"grade 2"},{"column":"title","relation":"contains","condition":"titanium"}],"published_scope":"global","image":{"created_at":"2019-12-03T12:24:11+10:00","alt":null,"width":2048,"height":2048,"src":"\/\/bendbrothers.us\/cdn\/shop\/collections\/IMG_2111.jpg?v=1676439699"}},{"id":21690220574,"handle":"filler-wire","updated_at":"2023-11-27T14:20:31+10:00","published_at":"2017-12-22T18:46:59+10:00","sort_order":"price-asc","template_suffix":null,"published_scope":"global","title":"Filler Wire","body_html":"\u003cp\u003eAll types and sizes of Titanium Tig filler wire (Tig filler rod) in 1mm \u0026amp; 1.6mm in 50g, 100g, 200g \u0026amp;1kg\u003c\/p\u003e"},{"id":392462074102,"handle":"third-strike-fab","title":"Third Strike Fab","updated_at":"2023-12-01T16:10:05+10:00","body_html":"","published_at":"2022-03-28T11:58:49+10:00","sort_order":"best-selling","template_suffix":"","disjunctive":false,"rules":[{"column":"tag","relation":"equals","condition":"3RD\/"}],"published_scope":"web"},{"id":392462008566,"handle":"trade-all","title":"Trade all","updated_at":"2023-12-01T16:10:05+10:00","body_html":"","published_at":"2022-03-28T11:57:41+10:00","sort_order":"best-selling","template_suffix":"","disjunctive":false,"rules":[{"column":"tag","relation":"equals","condition":"Trade-all"}],"published_scope":"web"},{"id":392462041334,"handle":"trade-gold","title":"Trade gold","updated_at":"2023-12-01T16:10:05+10:00","body_html":"","published_at":"2022-03-28T11:58:09+10:00","sort_order":"best-selling","template_suffix":"","disjunctive":false,"rules":[{"column":"tag","relation":"equals","condition":"Tradegold"}],"published_scope":"web"},{"id":392461746422,"handle":"trade-products","title":"Trade products","updated_at":"2023-12-01T16:10:05+10:00","body_html":"","published_at":"2022-03-28T12:10:26+10:00","sort_order":"best-selling","template_suffix":"","disjunctive":false,"rules":[{"column":"tag","relation":"equals","condition":"Trade"}],"published_scope":"web"}]