---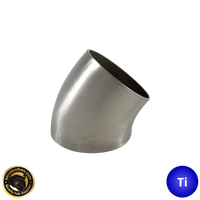 3" (76mm) Titanium 45° Mandrel Bent Elbow - 1.2D Radius - 1.2mm wall
Bend Brothers
Product: 3" 45° Titanium Elbow 1.2mm wall thickness
Material: Grade 2 titanium
Total Angle: 45° 1.2D Radius
Total Quantity: 1x Elbow
What you get: 1x ultrasonically cleaned, packed & sealed elbow ready to weld straight from the package.
      

Why ours ?
• GR2 Titanium, 1.2mm wall thickness
• Quality inspected 
• Ultrasonically cleaned 
• Packed and sealed for out of the packet welding 
Our aim is to provide high quality products that are competitively priced. 
---
You might also like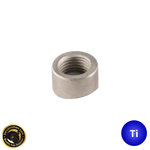 Bend Brothers
{"id":395687952414,"title":"Titanium O2 Oxygen Sensor Bung M18x1.5 | Pre-Notched","handle":"titanium-c02-weld-on-bung","description":"\u003ch1\u003eASTM B861 Grade Titanium Weld-On Bung Fits 3\", 3.5\" \u0026amp; 4\" \u003ca href=\"https:\/\/bendbrothers.com.au\/collections\/titanium-straight-tube\" title=\"Titanium-Straight-Exhaust-Tube\"\u003eTube\u003c\/a\u003e \u003c\/h1\u003e\n\u003ch2\u003eProduct: Grade 2 Titanium Weld-On O2 Oxygen Sensor Bung \u003c\/h2\u003e\n\u003ch2\u003eMaterial: Grade 2 Titanium\u003c\/h2\u003e\n\u003ch2\u003eTotal Quantity: 1 \u003c\/h2\u003e\n\u003ch2\u003eThread: M18 x 1.5\u003c\/h2\u003e\n\u003cp\u003e \u003c\/p\u003e\n\u003cp\u003e \u003c\/p\u003e","published_at":"2017-12-09T23:54:08+10:00","created_at":"2017-12-09T23:54:08+10:00","vendor":"Bend Brothers","type":"Weld On Bung","tags":["3RD\/","Co2 Sensor","Lambda","M18x1.5mm","Oxygen Sensor","Sensor Bung","Titanium Bung","Trade","Trade-all","Trade-silver","Tradegold","Weld On Bung"],"price":1700,"price_min":1700,"price_max":1700,"available":true,"price_varies":false,"compare_at_price":null,"compare_at_price_min":0,"compare_at_price_max":0,"compare_at_price_varies":false,"variants":[{"id":5435387510814,"title":"Default Title","option1":"Default Title","option2":null,"option3":null,"sku":"","requires_shipping":true,"taxable":true,"featured_image":null,"available":true,"name":"Titanium O2 Oxygen Sensor Bung M18x1.5 | Pre-Notched","public_title":null,"options":["Default Title"],"price":1700,"weight":500,"compare_at_price":null,"inventory_quantity":8,"inventory_management":"shopify","inventory_policy":"deny","barcode":"","requires_selling_plan":false,"selling_plan_allocations":[]}],"images":["\/\/bendbrothers.us\/cdn\/shop\/products\/02-Bung-Notched-Titanium.png?v=1633570878"],"featured_image":"\/\/bendbrothers.us\/cdn\/shop\/products\/02-Bung-Notched-Titanium.png?v=1633570878","options":["Title"],"media":[{"alt":null,"id":22720091947185,"position":1,"preview_image":{"aspect_ratio":1.0,"height":2048,"width":2048,"src":"\/\/bendbrothers.us\/cdn\/shop\/products\/02-Bung-Notched-Titanium.png?v=1633570878"},"aspect_ratio":1.0,"height":2048,"media_type":"image","src":"\/\/bendbrothers.us\/cdn\/shop\/products\/02-Bung-Notched-Titanium.png?v=1633570878","width":2048}],"requires_selling_plan":false,"selling_plan_groups":[],"content":"\u003ch1\u003eASTM B861 Grade Titanium Weld-On Bung Fits 3\", 3.5\" \u0026amp; 4\" \u003ca href=\"https:\/\/bendbrothers.com.au\/collections\/titanium-straight-tube\" title=\"Titanium-Straight-Exhaust-Tube\"\u003eTube\u003c\/a\u003e \u003c\/h1\u003e\n\u003ch2\u003eProduct: Grade 2 Titanium Weld-On O2 Oxygen Sensor Bung \u003c\/h2\u003e\n\u003ch2\u003eMaterial: Grade 2 Titanium\u003c\/h2\u003e\n\u003ch2\u003eTotal Quantity: 1 \u003c\/h2\u003e\n\u003ch2\u003eThread: M18 x 1.5\u003c\/h2\u003e\n\u003cp\u003e \u003c\/p\u003e\n\u003cp\u003e \u003c\/p\u003e"}
[{"id":77634666590,"handle":"all","title":"All","updated_at":"2023-12-05T18:50:02+10:00","body_html":"","published_at":"2018-10-01T09:38:24+10:00","sort_order":"best-selling","template_suffix":null,"disjunctive":false,"rules":[{"column":"variant_price","relation":"greater_than","condition":"0"}],"published_scope":"global"},{"id":155706818654,"handle":"titanium","title":"All Titanium Products","updated_at":"2023-12-01T12:45:13+10:00","body_html":"\u003ch1\u003eAll Bend Brothers Titanium products. Mandrel bends, straight tube, pie cuts, reducers, v-band kits, muffler parts, bungs, sheet\/plate and much more.\u003cbr\u003e\n\u003c\/h1\u003e","published_at":"2019-12-03T12:21:22+10:00","sort_order":"best-selling","template_suffix":"","disjunctive":true,"rules":[{"column":"tag","relation":"equals","condition":"Titanium"},{"column":"tag","relation":"equals","condition":"ti"},{"column":"tag","relation":"equals","condition":"gr2"},{"column":"tag","relation":"equals","condition":"grade 2"},{"column":"title","relation":"contains","condition":"titanium"}],"published_scope":"global","image":{"created_at":"2019-12-03T12:24:11+10:00","alt":null,"width":2048,"height":2048,"src":"\/\/bendbrothers.us\/cdn\/shop\/collections\/IMG_2111.jpg?v=1676439699"}},{"id":163179331678,"handle":"co2-bungs","updated_at":"2023-11-25T18:55:05+10:00","published_at":"2020-10-06T09:37:24+10:00","sort_order":"price-asc","template_suffix":"","published_scope":"global","title":"O2 Bung's","body_html":"\u003cp\u003eSelection of our latest O2 \u0026amp; weld-on bung range.\u003c\/p\u003e","image":{"created_at":"2023-02-15T14:43:56+10:00","alt":null,"width":2048,"height":2048,"src":"\/\/bendbrothers.us\/cdn\/shop\/collections\/C02_Bungs_Collection_Image.jpg?v=1676437292"}},{"id":392462074102,"handle":"third-strike-fab","title":"Third Strike Fab","updated_at":"2023-12-05T18:50:02+10:00","body_html":"","published_at":"2022-03-28T11:58:49+10:00","sort_order":"best-selling","template_suffix":"","disjunctive":false,"rules":[{"column":"tag","relation":"equals","condition":"3RD\/"}],"published_scope":"web"},{"id":392462008566,"handle":"trade-all","title":"Trade all","updated_at":"2023-12-05T18:50:02+10:00","body_html":"","published_at":"2022-03-28T11:57:41+10:00","sort_order":"best-selling","template_suffix":"","disjunctive":false,"rules":[{"column":"tag","relation":"equals","condition":"Trade-all"}],"published_scope":"web"},{"id":392462041334,"handle":"trade-gold","title":"Trade gold","updated_at":"2023-12-05T18:50:02+10:00","body_html":"","published_at":"2022-03-28T11:58:09+10:00","sort_order":"best-selling","template_suffix":"","disjunctive":false,"rules":[{"column":"tag","relation":"equals","condition":"Tradegold"}],"published_scope":"web"},{"id":392461746422,"handle":"trade-products","title":"Trade products","updated_at":"2023-12-05T18:50:02+10:00","body_html":"","published_at":"2022-03-28T12:10:26+10:00","sort_order":"best-selling","template_suffix":"","disjunctive":false,"rules":[{"column":"tag","relation":"equals","condition":"Trade"}],"published_scope":"web"}]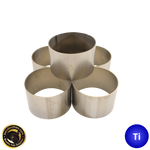 Bend Brothers
{"id":6629636833457,"title":"Tig Weld Practice Kit - Titanium Tube Coupons","handle":"titanium-weld-practice-kit-tube-coupons","description":"\u003ch1\u003eTig welding like any skill takes a large amount of time underneath the hood to perfect your welds into glowing stacks of dimes. \u003c\/h1\u003e\n\u003ch1\u003eThe simplest way to dial in your tig is by practising on cut-up tube sections or flat coupons, but we are all a little short on time in this world ⏲ so spending it cutting and prepping material isn't always the smartest idea.\u003c\/h1\u003e\n\u003ch1\u003eThis wasn't an option so we have designed tig weld practice kits to save you time by pre-prepping all coupons ready for you to tig weld from the packet!\u003c\/h1\u003e\n\u003ch1\u003e \u003c\/h1\u003e\n\u003ch2\u003eProduct: Titanium Weld Practice Kit - Tube Coupons Includes Filler Wire\u003c\/h2\u003e\n\u003ch2\u003eMaterial: Grade 2 Titanium tube \u0026amp; Gr2 Titanium Weld Filler Wire\u003c\/h2\u003e\n\u003ch2\u003eQuantity: 5x coupons \u0026amp; 25g of titanium filler wire\u003c\/h2\u003e\n\u003ch2\u003eWhat you get: 1 Kit containing 5x pre-cleaned \u0026amp; prepped tube coupons and 25g's of filler wire. \u003c\/h2\u003e","published_at":"2021-04-05T10:00:02+10:00","created_at":"2021-04-02T08:40:36+10:00","vendor":"Bend Brothers","type":"Weld Practice Kit","tags":["3RD\/","gr2","grade 2","Ready to weld","Tig","Tig weld","Tig Weld Practice Pack","Tig Welding","Titanium","Trade-all","tube"],"price":4300,"price_min":4300,"price_max":4300,"available":true,"price_varies":false,"compare_at_price":null,"compare_at_price_min":0,"compare_at_price_max":0,"compare_at_price_varies":false,"variants":[{"id":39530835771569,"title":"Default Title","option1":"Default Title","option2":null,"option3":null,"sku":"","requires_shipping":true,"taxable":true,"featured_image":null,"available":true,"name":"Tig Weld Practice Kit - Titanium Tube Coupons","public_title":null,"options":["Default Title"],"price":4300,"weight":500,"compare_at_price":null,"inventory_quantity":2,"inventory_management":"shopify","inventory_policy":"deny","barcode":"","requires_selling_plan":false,"selling_plan_allocations":[]}],"images":["\/\/bendbrothers.us\/cdn\/shop\/products\/Tig-Weld-Practice-Kit-Titanium.png?v=1658728456"],"featured_image":"\/\/bendbrothers.us\/cdn\/shop\/products\/Tig-Weld-Practice-Kit-Titanium.png?v=1658728456","options":["Title"],"media":[{"alt":null,"id":30031585804534,"position":1,"preview_image":{"aspect_ratio":1.0,"height":2048,"width":2048,"src":"\/\/bendbrothers.us\/cdn\/shop\/products\/Tig-Weld-Practice-Kit-Titanium.png?v=1658728456"},"aspect_ratio":1.0,"height":2048,"media_type":"image","src":"\/\/bendbrothers.us\/cdn\/shop\/products\/Tig-Weld-Practice-Kit-Titanium.png?v=1658728456","width":2048}],"requires_selling_plan":false,"selling_plan_groups":[],"content":"\u003ch1\u003eTig welding like any skill takes a large amount of time underneath the hood to perfect your welds into glowing stacks of dimes. \u003c\/h1\u003e\n\u003ch1\u003eThe simplest way to dial in your tig is by practising on cut-up tube sections or flat coupons, but we are all a little short on time in this world ⏲ so spending it cutting and prepping material isn't always the smartest idea.\u003c\/h1\u003e\n\u003ch1\u003eThis wasn't an option so we have designed tig weld practice kits to save you time by pre-prepping all coupons ready for you to tig weld from the packet!\u003c\/h1\u003e\n\u003ch1\u003e \u003c\/h1\u003e\n\u003ch2\u003eProduct: Titanium Weld Practice Kit - Tube Coupons Includes Filler Wire\u003c\/h2\u003e\n\u003ch2\u003eMaterial: Grade 2 Titanium tube \u0026amp; Gr2 Titanium Weld Filler Wire\u003c\/h2\u003e\n\u003ch2\u003eQuantity: 5x coupons \u0026amp; 25g of titanium filler wire\u003c\/h2\u003e\n\u003ch2\u003eWhat you get: 1 Kit containing 5x pre-cleaned \u0026amp; prepped tube coupons and 25g's of filler wire. \u003c\/h2\u003e"}
[{"id":77634666590,"handle":"all","title":"All","updated_at":"2023-12-05T18:50:02+10:00","body_html":"","published_at":"2018-10-01T09:38:24+10:00","sort_order":"best-selling","template_suffix":null,"disjunctive":false,"rules":[{"column":"variant_price","relation":"greater_than","condition":"0"}],"published_scope":"global"},{"id":155706818654,"handle":"titanium","title":"All Titanium Products","updated_at":"2023-12-01T12:45:13+10:00","body_html":"\u003ch1\u003eAll Bend Brothers Titanium products. Mandrel bends, straight tube, pie cuts, reducers, v-band kits, muffler parts, bungs, sheet\/plate and much more.\u003cbr\u003e\n\u003c\/h1\u003e","published_at":"2019-12-03T12:21:22+10:00","sort_order":"best-selling","template_suffix":"","disjunctive":true,"rules":[{"column":"tag","relation":"equals","condition":"Titanium"},{"column":"tag","relation":"equals","condition":"ti"},{"column":"tag","relation":"equals","condition":"gr2"},{"column":"tag","relation":"equals","condition":"grade 2"},{"column":"title","relation":"contains","condition":"titanium"}],"published_scope":"global","image":{"created_at":"2019-12-03T12:24:11+10:00","alt":null,"width":2048,"height":2048,"src":"\/\/bendbrothers.us\/cdn\/shop\/collections\/IMG_2111.jpg?v=1676439699"}},{"id":392462074102,"handle":"third-strike-fab","title":"Third Strike Fab","updated_at":"2023-12-05T18:50:02+10:00","body_html":"","published_at":"2022-03-28T11:58:49+10:00","sort_order":"best-selling","template_suffix":"","disjunctive":false,"rules":[{"column":"tag","relation":"equals","condition":"3RD\/"}],"published_scope":"web"},{"id":392462008566,"handle":"trade-all","title":"Trade all","updated_at":"2023-12-05T18:50:02+10:00","body_html":"","published_at":"2022-03-28T11:57:41+10:00","sort_order":"best-selling","template_suffix":"","disjunctive":false,"rules":[{"column":"tag","relation":"equals","condition":"Trade-all"}],"published_scope":"web"},{"id":264910635185,"handle":"weld-practice-kits","title":"Weld Practice Kits","updated_at":"2023-11-25T06:25:39+10:00","body_html":"Practising your Tig ( Tungsten Inert Gas) welding, Mig ( Metal Inert Gas) welding , Oxy welding or even stick welding will lead to you achieving a much higher weld quality and also help you speed up your processes, such as filler rod feeding technique or torch weld puddle control.","published_at":"2021-04-05T07:14:22+10:00","sort_order":"price-asc","template_suffix":"","disjunctive":false,"rules":[{"column":"tag","relation":"equals","condition":"Tig Weld Practice Pack"}],"published_scope":"global","image":{"created_at":"2021-04-05T07:14:20+10:00","alt":null,"width":1080,"height":1080,"src":"\/\/bendbrothers.us\/cdn\/shop\/collections\/Practice_kits.jpg?v=1617570861"}}]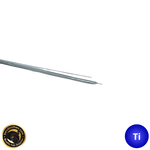 Bend Brothers
{"id":509664591902,"title":"50g - 1mm Grade 2 Titanium Filler Wire - Straight","handle":"1mm-grade-2-titanium-filler-wire-50g","description":"\u003cmeta charset=\"utf-8\"\u003e\n\u003cp\u003e1mm Grade 2 Titanium Straight filler wire \u003c\/p\u003e\n\u003cp\u003ePerfectly matched to any and all Bend Brothers Titanium products\u003c\/p\u003e\n\u003cp\u003eBend Brothers Titanium filler wire is available in 50g, 100g, 200g, 500g \u0026amp; 1kg amounts\u003c\/p\u003e\n\u003cp\u003e \u003c\/p\u003e\n\u003cp\u003eProduct: 50g Grade 2 Titanium filler wire straight lengths\u003c\/p\u003e\n\u003cp\u003eMaterial: Grade 2 Titanium\u003c\/p\u003e\n\u003cp\u003eDimensions: 1mm x 1mm x 500mm x 30pcs\u003c\/p\u003e\n\u003cp\u003eTotal Quantitiy: 30pcs 500mm Long\u003c\/p\u003e\n\u003cp\u003eWhat You Get: 30pcs Grade 2 Titanium straight filler wire ultrasonically cleaned \u0026amp; packaged for out of the packet welding\u003c\/p\u003e","published_at":"2018-03-14T07:56:15+10:00","created_at":"2018-02-01T13:52:40+10:00","vendor":"Bend Brothers","type":"Titanium Filler Wire","tags":["1mm","3RD\/","Filler wire","gr2","grade 2","Tig","Titanium","Trade","Trade-all","Trade-silver","Tradegold"],"price":1300,"price_min":1300,"price_max":1300,"available":true,"price_varies":false,"compare_at_price":null,"compare_at_price_min":0,"compare_at_price_max":0,"compare_at_price_varies":false,"variants":[{"id":7236079812638,"title":"Default Title","option1":"Default Title","option2":null,"option3":null,"sku":"","requires_shipping":true,"taxable":true,"featured_image":null,"available":true,"name":"50g - 1mm Grade 2 Titanium Filler Wire - Straight","public_title":null,"options":["Default Title"],"price":1300,"weight":500,"compare_at_price":null,"inventory_quantity":3,"inventory_management":"shopify","inventory_policy":"deny","barcode":"","requires_selling_plan":false,"selling_plan_allocations":[]}],"images":["\/\/bendbrothers.us\/cdn\/shop\/products\/Titanium-Filler-Wire-Straight_59bfbfd6-31e1-435c-8335-ccbe60d22093.png?v=1658468926"],"featured_image":"\/\/bendbrothers.us\/cdn\/shop\/products\/Titanium-Filler-Wire-Straight_59bfbfd6-31e1-435c-8335-ccbe60d22093.png?v=1658468926","options":["Title"],"media":[{"alt":null,"id":30014123639030,"position":1,"preview_image":{"aspect_ratio":1.0,"height":2048,"width":2048,"src":"\/\/bendbrothers.us\/cdn\/shop\/products\/Titanium-Filler-Wire-Straight_59bfbfd6-31e1-435c-8335-ccbe60d22093.png?v=1658468926"},"aspect_ratio":1.0,"height":2048,"media_type":"image","src":"\/\/bendbrothers.us\/cdn\/shop\/products\/Titanium-Filler-Wire-Straight_59bfbfd6-31e1-435c-8335-ccbe60d22093.png?v=1658468926","width":2048}],"requires_selling_plan":false,"selling_plan_groups":[],"content":"\u003cmeta charset=\"utf-8\"\u003e\n\u003cp\u003e1mm Grade 2 Titanium Straight filler wire \u003c\/p\u003e\n\u003cp\u003ePerfectly matched to any and all Bend Brothers Titanium products\u003c\/p\u003e\n\u003cp\u003eBend Brothers Titanium filler wire is available in 50g, 100g, 200g, 500g \u0026amp; 1kg amounts\u003c\/p\u003e\n\u003cp\u003e \u003c\/p\u003e\n\u003cp\u003eProduct: 50g Grade 2 Titanium filler wire straight lengths\u003c\/p\u003e\n\u003cp\u003eMaterial: Grade 2 Titanium\u003c\/p\u003e\n\u003cp\u003eDimensions: 1mm x 1mm x 500mm x 30pcs\u003c\/p\u003e\n\u003cp\u003eTotal Quantitiy: 30pcs 500mm Long\u003c\/p\u003e\n\u003cp\u003eWhat You Get: 30pcs Grade 2 Titanium straight filler wire ultrasonically cleaned \u0026amp; packaged for out of the packet welding\u003c\/p\u003e"}
[{"id":77634666590,"handle":"all","title":"All","updated_at":"2023-12-05T18:50:02+10:00","body_html":"","published_at":"2018-10-01T09:38:24+10:00","sort_order":"best-selling","template_suffix":null,"disjunctive":false,"rules":[{"column":"variant_price","relation":"greater_than","condition":"0"}],"published_scope":"global"},{"id":155706818654,"handle":"titanium","title":"All Titanium Products","updated_at":"2023-12-01T12:45:13+10:00","body_html":"\u003ch1\u003eAll Bend Brothers Titanium products. Mandrel bends, straight tube, pie cuts, reducers, v-band kits, muffler parts, bungs, sheet\/plate and much more.\u003cbr\u003e\n\u003c\/h1\u003e","published_at":"2019-12-03T12:21:22+10:00","sort_order":"best-selling","template_suffix":"","disjunctive":true,"rules":[{"column":"tag","relation":"equals","condition":"Titanium"},{"column":"tag","relation":"equals","condition":"ti"},{"column":"tag","relation":"equals","condition":"gr2"},{"column":"tag","relation":"equals","condition":"grade 2"},{"column":"title","relation":"contains","condition":"titanium"}],"published_scope":"global","image":{"created_at":"2019-12-03T12:24:11+10:00","alt":null,"width":2048,"height":2048,"src":"\/\/bendbrothers.us\/cdn\/shop\/collections\/IMG_2111.jpg?v=1676439699"}},{"id":21690220574,"handle":"filler-wire","updated_at":"2023-11-27T14:20:31+10:00","published_at":"2017-12-22T18:46:59+10:00","sort_order":"price-asc","template_suffix":null,"published_scope":"global","title":"Filler Wire","body_html":"\u003cp\u003eAll types and sizes of Titanium Tig filler wire (Tig filler rod) in 1mm \u0026amp; 1.6mm in 50g, 100g, 200g \u0026amp;1kg\u003c\/p\u003e"},{"id":392462074102,"handle":"third-strike-fab","title":"Third Strike Fab","updated_at":"2023-12-05T18:50:02+10:00","body_html":"","published_at":"2022-03-28T11:58:49+10:00","sort_order":"best-selling","template_suffix":"","disjunctive":false,"rules":[{"column":"tag","relation":"equals","condition":"3RD\/"}],"published_scope":"web"},{"id":392462008566,"handle":"trade-all","title":"Trade all","updated_at":"2023-12-05T18:50:02+10:00","body_html":"","published_at":"2022-03-28T11:57:41+10:00","sort_order":"best-selling","template_suffix":"","disjunctive":false,"rules":[{"column":"tag","relation":"equals","condition":"Trade-all"}],"published_scope":"web"},{"id":392462041334,"handle":"trade-gold","title":"Trade gold","updated_at":"2023-12-05T18:50:02+10:00","body_html":"","published_at":"2022-03-28T11:58:09+10:00","sort_order":"best-selling","template_suffix":"","disjunctive":false,"rules":[{"column":"tag","relation":"equals","condition":"Tradegold"}],"published_scope":"web"},{"id":392461746422,"handle":"trade-products","title":"Trade products","updated_at":"2023-12-05T18:50:02+10:00","body_html":"","published_at":"2022-03-28T12:10:26+10:00","sort_order":"best-selling","template_suffix":"","disjunctive":false,"rules":[{"column":"tag","relation":"equals","condition":"Trade"}],"published_scope":"web"}]