---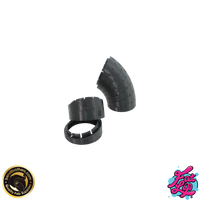 1.75" (45mm) Pie Cut Template Kit - 9° Pie Cuts
Fat Lip Collective
Pie Cut Template kits are a clip-together pie cut system created to help reduce time and wasted material when designing complicated pie cut bends.
The individual pieces clip together to allow for unlimited expansion of your kit to cater for the twistiest of intercooler piping.

Each pie cut features degree marks for accurate transfer of your template via the optional stencil piece.
Product: 1.75" (45mm) Pie Cut Template Kit
Material: 3D Printed Nylon 
Total Angle Per Piece: 4.5° Per Side = 9° Total Per Slice
Total Quantity: 10pcs (90° Bend Total)
What you get: 10 Pie pieces packed & ready to clip together straight from the package.
---
You might also like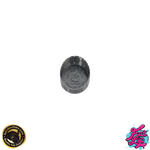 Fat Lip Collective
{"id":7545984614646,"title":"1.5\" (38mm) Pie Cut Template Stencil | Made For 9° Pie Cuts","handle":"1-5-38mm-pie-cut-template-stencil-made-for-9-pie-cuts","description":"\u003ch1\u003e\u003cbr\u003e\u003c\/h1\u003e\n\u003ch1\u003ePie Cut Stencil's are designed to work with Bend Brothers \u003ca href=\"https:\/\/bendbrothers.com.au\/collections\/304-ss-pie-cuts\" title=\"Stainless Steel Pie Cut kits for pie cut exhausts, pie cut intercooler piping, tight 1D pie cut bends\"\u003epie cuts\u003c\/a\u003e, allowing you to stencil your clocking degree marks onto your metal pie cuts to exactly re-create your template\u003c\/h1\u003e\n\u003ch2\u003eEach stencil fits one pie cut inside to mark your individual degree marks\u003c\/h2\u003e\n\u003cp\u003e \u003c\/p\u003e\n\u003ch3 class=\"p2\"\u003eProduct: 1.5\" (38mm) Pie Cut Template Stencil\u003c\/h3\u003e\n\u003ch3 class=\"p2\"\u003eMaterial: 3D Printed Nylon \u003c\/h3\u003e\n\u003ch3 class=\"p2\"\u003eMade For Bend Brothers Pie Cuts: 4.5° Per Side = 9° Total Per Slice\u003c\/h3\u003e\n\u003ch3 class=\"p2\"\u003eTotal Quantity: 1x Stencil, 1x fine tip \u003ca href=\"https:\/\/www.sharpie.com\/all-markers\/classic\/fine\/SHFineBlackFine\" title=\"Fine Tip Black Sharpie Marker Pen\" target=\"_blank\"\u003eSharpie\u003c\/a\u003e\n\u003c\/h3\u003e\n\u003ch3 class=\"p2\"\u003e\n\u003cspan class=\"s1\"\u003e\u003c\/span\u003eWhat you get: 1x pie cut stencil \u0026amp; 1x fine tip sharpie marker\u003c\/h3\u003e","published_at":"2022-02-18T16:46:04+10:00","created_at":"2022-01-26T07:31:27+10:00","vendor":"Fat Lip Collective","type":"Pie Cut Template Kit","tags":["1.5\"","38mm","Fabrication Tools","lobster back","Lobsterback","Pie cut","pie cuts","Tight radius","Trade-all"],"price":800,"price_min":800,"price_max":800,"available":false,"price_varies":false,"compare_at_price":null,"compare_at_price_min":0,"compare_at_price_max":0,"compare_at_price_varies":false,"variants":[{"id":42484999094518,"title":"Default Title","option1":"Default Title","option2":null,"option3":null,"sku":"FL04038","requires_shipping":true,"taxable":true,"featured_image":null,"available":false,"name":"1.5\" (38mm) Pie Cut Template Stencil | Made For 9° Pie Cuts","public_title":null,"options":["Default Title"],"price":800,"weight":500,"compare_at_price":null,"inventory_quantity":0,"inventory_management":"shopify","inventory_policy":"deny","barcode":"","requires_selling_plan":false,"selling_plan_allocations":[]}],"images":["\/\/bendbrothers.us\/cdn\/shop\/products\/1.5-38mm-Pie-Cut-Template.png?v=1661750828"],"featured_image":"\/\/bendbrothers.us\/cdn\/shop\/products\/1.5-38mm-Pie-Cut-Template.png?v=1661750828","options":["Title"],"media":[{"alt":null,"id":30249204547830,"position":1,"preview_image":{"aspect_ratio":1.0,"height":2048,"width":2048,"src":"\/\/bendbrothers.us\/cdn\/shop\/products\/1.5-38mm-Pie-Cut-Template.png?v=1661750828"},"aspect_ratio":1.0,"height":2048,"media_type":"image","src":"\/\/bendbrothers.us\/cdn\/shop\/products\/1.5-38mm-Pie-Cut-Template.png?v=1661750828","width":2048}],"requires_selling_plan":false,"selling_plan_groups":[],"content":"\u003ch1\u003e\u003cbr\u003e\u003c\/h1\u003e\n\u003ch1\u003ePie Cut Stencil's are designed to work with Bend Brothers \u003ca href=\"https:\/\/bendbrothers.com.au\/collections\/304-ss-pie-cuts\" title=\"Stainless Steel Pie Cut kits for pie cut exhausts, pie cut intercooler piping, tight 1D pie cut bends\"\u003epie cuts\u003c\/a\u003e, allowing you to stencil your clocking degree marks onto your metal pie cuts to exactly re-create your template\u003c\/h1\u003e\n\u003ch2\u003eEach stencil fits one pie cut inside to mark your individual degree marks\u003c\/h2\u003e\n\u003cp\u003e \u003c\/p\u003e\n\u003ch3 class=\"p2\"\u003eProduct: 1.5\" (38mm) Pie Cut Template Stencil\u003c\/h3\u003e\n\u003ch3 class=\"p2\"\u003eMaterial: 3D Printed Nylon \u003c\/h3\u003e\n\u003ch3 class=\"p2\"\u003eMade For Bend Brothers Pie Cuts: 4.5° Per Side = 9° Total Per Slice\u003c\/h3\u003e\n\u003ch3 class=\"p2\"\u003eTotal Quantity: 1x Stencil, 1x fine tip \u003ca href=\"https:\/\/www.sharpie.com\/all-markers\/classic\/fine\/SHFineBlackFine\" title=\"Fine Tip Black Sharpie Marker Pen\" target=\"_blank\"\u003eSharpie\u003c\/a\u003e\n\u003c\/h3\u003e\n\u003ch3 class=\"p2\"\u003e\n\u003cspan class=\"s1\"\u003e\u003c\/span\u003eWhat you get: 1x pie cut stencil \u0026amp; 1x fine tip sharpie marker\u003c\/h3\u003e"}
[{"id":77634666590,"handle":"all","title":"All","updated_at":"2023-12-11T22:50:20+10:00","body_html":"","published_at":"2018-10-01T09:38:24+10:00","sort_order":"best-selling","template_suffix":null,"disjunctive":false,"rules":[{"column":"variant_price","relation":"greater_than","condition":"0"}],"published_scope":"global"},{"id":161317224542,"handle":"fabrication-tools","title":"Fabrication Tools","updated_at":"2023-12-01T12:09:19+10:00","body_html":"Fabrication Tools","published_at":"2020-06-10T05:48:23+10:00","sort_order":"price-asc","template_suffix":"","disjunctive":false,"rules":[{"column":"tag","relation":"equals","condition":"Fabrication Tools"}],"published_scope":"global","image":{"created_at":"2020-06-24T13:04:08+10:00","alt":null,"width":1080,"height":1080,"src":"\/\/bendbrothers.us\/cdn\/shop\/collections\/3-_76mm_-Pie-Cut-Template-Front-2.jpg?v=1592967849"}},{"id":392462008566,"handle":"trade-all","title":"Trade all","updated_at":"2023-12-11T22:50:20+10:00","body_html":"","published_at":"2022-03-28T11:57:41+10:00","sort_order":"best-selling","template_suffix":"","disjunctive":false,"rules":[{"column":"tag","relation":"equals","condition":"Trade-all"}],"published_scope":"web"}]
Regular price

$8.00
—
Sold Out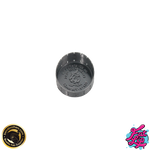 Fat Lip Collective
{"id":6643115983025,"title":"2\" (51mm) Pie Cut Template Stencil | Made For 9° Pie Cuts","handle":"2-51mm-pie-cut-template-stencil-made-for-9-pie-cuts","description":"\u003ch1\u003e\u003cbr\u003e\u003c\/h1\u003e\n\u003ch1\u003ePie Cut Stencil's are designed to work with Bend Brothers \u003ca href=\"https:\/\/bendbrothers.com.au\/collections\/304-ss-pie-cuts\" title=\"Stainless Steel Pie Cut kits for pie cut exhausts, pie cut intercooler piping, tight 1D pie cut bends\"\u003epie cuts\u003c\/a\u003e, allowing you to stencil your clocking degree marks on to your metal pie cuts to exactly re-create your template\u003c\/h1\u003e\n\u003ch2\u003eEach stencil fits one pie cut inside to mark your individual degree marks\u003c\/h2\u003e\n\u003cp\u003e \u003c\/p\u003e\n\u003ch3 class=\"p2\"\u003eProduct: 2\" (51mm) Pie Cut Template Stencil\u003c\/h3\u003e\n\u003ch3 class=\"p2\"\u003eMaterial: 3D Printed Nylon \u003c\/h3\u003e\n\u003ch3 class=\"p2\"\u003eMade For Bend Brothers Pie Cuts: 4.5° Per Side = 9° Total Per Slice\u003c\/h3\u003e\n\u003ch3 class=\"p2\"\u003eTotal Quantity: 1x Stencil, 1x fine tip \u003ca href=\"https:\/\/www.sharpie.com\/all-markers\/classic\/fine\/SHFineBlackFine\" title=\"Fine Tip Black Sharpie Marker Pen\" target=\"_blank\"\u003eSharpie\u003c\/a\u003e\n\u003c\/h3\u003e\n\u003ch3 class=\"p2\"\u003e\n\u003cspan class=\"s1\"\u003e\u003c\/span\u003eWhat you get: 1x pie cut stencil \u0026amp; 1x fine tip sharpie marker\u003c\/h3\u003e","published_at":"2021-04-08T06:33:55+10:00","created_at":"2021-04-08T06:31:56+10:00","vendor":"Fat Lip Collective","type":"Pie Cut Template Kit","tags":["2\"","51mm","Fabrication Tools","lobster back","Lobsterback","Pie cut","pie cuts","Tight radius","Trade-all"],"price":900,"price_min":900,"price_max":900,"available":false,"price_varies":false,"compare_at_price":null,"compare_at_price_min":0,"compare_at_price_max":0,"compare_at_price_varies":false,"variants":[{"id":39576094638257,"title":"Default Title","option1":"Default Title","option2":null,"option3":null,"sku":"FL04051","requires_shipping":true,"taxable":true,"featured_image":null,"available":false,"name":"2\" (51mm) Pie Cut Template Stencil | Made For 9° Pie Cuts","public_title":null,"options":["Default Title"],"price":900,"weight":500,"compare_at_price":null,"inventory_quantity":0,"inventory_management":"shopify","inventory_policy":"deny","barcode":"","requires_selling_plan":false,"selling_plan_allocations":[]}],"images":["\/\/bendbrothers.us\/cdn\/shop\/products\/2-51mm-Pie-Cut-Template.png?v=1661750960"],"featured_image":"\/\/bendbrothers.us\/cdn\/shop\/products\/2-51mm-Pie-Cut-Template.png?v=1661750960","options":["Title"],"media":[{"alt":null,"id":30249221521654,"position":1,"preview_image":{"aspect_ratio":1.0,"height":2048,"width":2048,"src":"\/\/bendbrothers.us\/cdn\/shop\/products\/2-51mm-Pie-Cut-Template.png?v=1661750960"},"aspect_ratio":1.0,"height":2048,"media_type":"image","src":"\/\/bendbrothers.us\/cdn\/shop\/products\/2-51mm-Pie-Cut-Template.png?v=1661750960","width":2048}],"requires_selling_plan":false,"selling_plan_groups":[],"content":"\u003ch1\u003e\u003cbr\u003e\u003c\/h1\u003e\n\u003ch1\u003ePie Cut Stencil's are designed to work with Bend Brothers \u003ca href=\"https:\/\/bendbrothers.com.au\/collections\/304-ss-pie-cuts\" title=\"Stainless Steel Pie Cut kits for pie cut exhausts, pie cut intercooler piping, tight 1D pie cut bends\"\u003epie cuts\u003c\/a\u003e, allowing you to stencil your clocking degree marks on to your metal pie cuts to exactly re-create your template\u003c\/h1\u003e\n\u003ch2\u003eEach stencil fits one pie cut inside to mark your individual degree marks\u003c\/h2\u003e\n\u003cp\u003e \u003c\/p\u003e\n\u003ch3 class=\"p2\"\u003eProduct: 2\" (51mm) Pie Cut Template Stencil\u003c\/h3\u003e\n\u003ch3 class=\"p2\"\u003eMaterial: 3D Printed Nylon \u003c\/h3\u003e\n\u003ch3 class=\"p2\"\u003eMade For Bend Brothers Pie Cuts: 4.5° Per Side = 9° Total Per Slice\u003c\/h3\u003e\n\u003ch3 class=\"p2\"\u003eTotal Quantity: 1x Stencil, 1x fine tip \u003ca href=\"https:\/\/www.sharpie.com\/all-markers\/classic\/fine\/SHFineBlackFine\" title=\"Fine Tip Black Sharpie Marker Pen\" target=\"_blank\"\u003eSharpie\u003c\/a\u003e\n\u003c\/h3\u003e\n\u003ch3 class=\"p2\"\u003e\n\u003cspan class=\"s1\"\u003e\u003c\/span\u003eWhat you get: 1x pie cut stencil \u0026amp; 1x fine tip sharpie marker\u003c\/h3\u003e"}
[{"id":77634666590,"handle":"all","title":"All","updated_at":"2023-12-11T22:50:20+10:00","body_html":"","published_at":"2018-10-01T09:38:24+10:00","sort_order":"best-selling","template_suffix":null,"disjunctive":false,"rules":[{"column":"variant_price","relation":"greater_than","condition":"0"}],"published_scope":"global"},{"id":161317224542,"handle":"fabrication-tools","title":"Fabrication Tools","updated_at":"2023-12-01T12:09:19+10:00","body_html":"Fabrication Tools","published_at":"2020-06-10T05:48:23+10:00","sort_order":"price-asc","template_suffix":"","disjunctive":false,"rules":[{"column":"tag","relation":"equals","condition":"Fabrication Tools"}],"published_scope":"global","image":{"created_at":"2020-06-24T13:04:08+10:00","alt":null,"width":1080,"height":1080,"src":"\/\/bendbrothers.us\/cdn\/shop\/collections\/3-_76mm_-Pie-Cut-Template-Front-2.jpg?v=1592967849"}},{"id":404895006966,"handle":"tools","updated_at":"2023-12-01T12:09:19+10:00","published_at":"2023-05-30T13:22:22+10:00","sort_order":"best-selling","template_suffix":"","published_scope":"global","title":"Tools","body_html":""},{"id":392462008566,"handle":"trade-all","title":"Trade all","updated_at":"2023-12-11T22:50:20+10:00","body_html":"","published_at":"2022-03-28T11:57:41+10:00","sort_order":"best-selling","template_suffix":"","disjunctive":false,"rules":[{"column":"tag","relation":"equals","condition":"Trade-all"}],"published_scope":"web"}]
Regular price

$9.00
—
Sold Out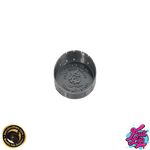 Fat Lip Collective
{"id":4620098699358,"title":"2.5\" (63mm) Pie Cut Template Stencil | Made For 9° Pie Cuts","handle":"2-5-63mm-pie-cut-template-stencil-made-for-9-pie-cuts","description":"\u003ch1\u003e\u003cbr\u003e\u003c\/h1\u003e\n\u003ch1\u003ePie Cut Stencil's are designed to work with Bend Brothers \u003ca href=\"https:\/\/bendbrothers.com.au\/collections\/304-ss-pie-cuts\" title=\"Stainless Steel Pie Cut kits for pie cut exhausts, pie cut intercooler piping, tight 1D pie cut bends\"\u003epie cuts\u003c\/a\u003e, allowing you to stencil your clocking degree marks on to your metal pie cuts to exactly re-create your template\u003c\/h1\u003e\n\u003ch2\u003eEach stencil fits one pie cut inside to mark your individual degree marks\u003c\/h2\u003e\n\u003cp\u003e \u003c\/p\u003e\n\u003ch3 class=\"p2\"\u003eProduct: 2.5\" (63mm) Pie Cut Template Stencil\u003c\/h3\u003e\n\u003ch3 class=\"p2\"\u003eMaterial: 3D Printed Nylon \u003c\/h3\u003e\n\u003ch3 class=\"p2\"\u003eMade For Bend Brothers Pie Cuts: 4.5° Per Side = 9° Total Per Slice\u003c\/h3\u003e\n\u003ch3 class=\"p2\"\u003eTotal Quantity: 1x Stencil, 1x fine tip \u003ca href=\"https:\/\/www.sharpie.com\/all-markers\/classic\/fine\/SHFineBlackFine\" target=\"_blank\" title=\"Fine Tip Black Sharpie Marker Pen\" rel=\"noopener noreferrer\"\u003eSharpie\u003c\/a\u003e\n\u003c\/h3\u003e\n\u003ch3 class=\"p2\"\u003e\n\u003cspan class=\"s1\"\u003e\u003c\/span\u003eWhat you get: 1x pie cut stencil \u0026amp; 1x fine tip sharpie marker\u003c\/h3\u003e","published_at":"2020-06-11T15:00:15+10:00","created_at":"2020-06-10T10:46:23+10:00","vendor":"Fat Lip Collective","type":"Pie Cut Template Kit","tags":["2.5\"","Fabrication Tools","lobster back","Lobsterback","Pie cut","pie cuts","Tight radius","Trade-all"],"price":1000,"price_min":1000,"price_max":1000,"available":true,"price_varies":false,"compare_at_price":null,"compare_at_price_min":0,"compare_at_price_max":0,"compare_at_price_varies":false,"variants":[{"id":31961165365342,"title":"Default Title","option1":"Default Title","option2":null,"option3":null,"sku":"FL04063","requires_shipping":true,"taxable":true,"featured_image":null,"available":true,"name":"2.5\" (63mm) Pie Cut Template Stencil | Made For 9° Pie Cuts","public_title":null,"options":["Default Title"],"price":1000,"weight":500,"compare_at_price":null,"inventory_quantity":1,"inventory_management":"shopify","inventory_policy":"deny","barcode":"","requires_selling_plan":false,"selling_plan_allocations":[]}],"images":["\/\/bendbrothers.us\/cdn\/shop\/products\/2.5-63mm-Pie-Cut-Template.png?v=1661750973"],"featured_image":"\/\/bendbrothers.us\/cdn\/shop\/products\/2.5-63mm-Pie-Cut-Template.png?v=1661750973","options":["Title"],"media":[{"alt":null,"id":30249222865142,"position":1,"preview_image":{"aspect_ratio":1.0,"height":2048,"width":2048,"src":"\/\/bendbrothers.us\/cdn\/shop\/products\/2.5-63mm-Pie-Cut-Template.png?v=1661750973"},"aspect_ratio":1.0,"height":2048,"media_type":"image","src":"\/\/bendbrothers.us\/cdn\/shop\/products\/2.5-63mm-Pie-Cut-Template.png?v=1661750973","width":2048}],"requires_selling_plan":false,"selling_plan_groups":[],"content":"\u003ch1\u003e\u003cbr\u003e\u003c\/h1\u003e\n\u003ch1\u003ePie Cut Stencil's are designed to work with Bend Brothers \u003ca href=\"https:\/\/bendbrothers.com.au\/collections\/304-ss-pie-cuts\" title=\"Stainless Steel Pie Cut kits for pie cut exhausts, pie cut intercooler piping, tight 1D pie cut bends\"\u003epie cuts\u003c\/a\u003e, allowing you to stencil your clocking degree marks on to your metal pie cuts to exactly re-create your template\u003c\/h1\u003e\n\u003ch2\u003eEach stencil fits one pie cut inside to mark your individual degree marks\u003c\/h2\u003e\n\u003cp\u003e \u003c\/p\u003e\n\u003ch3 class=\"p2\"\u003eProduct: 2.5\" (63mm) Pie Cut Template Stencil\u003c\/h3\u003e\n\u003ch3 class=\"p2\"\u003eMaterial: 3D Printed Nylon \u003c\/h3\u003e\n\u003ch3 class=\"p2\"\u003eMade For Bend Brothers Pie Cuts: 4.5° Per Side = 9° Total Per Slice\u003c\/h3\u003e\n\u003ch3 class=\"p2\"\u003eTotal Quantity: 1x Stencil, 1x fine tip \u003ca href=\"https:\/\/www.sharpie.com\/all-markers\/classic\/fine\/SHFineBlackFine\" target=\"_blank\" title=\"Fine Tip Black Sharpie Marker Pen\" rel=\"noopener noreferrer\"\u003eSharpie\u003c\/a\u003e\n\u003c\/h3\u003e\n\u003ch3 class=\"p2\"\u003e\n\u003cspan class=\"s1\"\u003e\u003c\/span\u003eWhat you get: 1x pie cut stencil \u0026amp; 1x fine tip sharpie marker\u003c\/h3\u003e"}
[{"id":77634666590,"handle":"all","title":"All","updated_at":"2023-12-11T22:50:20+10:00","body_html":"","published_at":"2018-10-01T09:38:24+10:00","sort_order":"best-selling","template_suffix":null,"disjunctive":false,"rules":[{"column":"variant_price","relation":"greater_than","condition":"0"}],"published_scope":"global"},{"id":161317224542,"handle":"fabrication-tools","title":"Fabrication Tools","updated_at":"2023-12-01T12:09:19+10:00","body_html":"Fabrication Tools","published_at":"2020-06-10T05:48:23+10:00","sort_order":"price-asc","template_suffix":"","disjunctive":false,"rules":[{"column":"tag","relation":"equals","condition":"Fabrication Tools"}],"published_scope":"global","image":{"created_at":"2020-06-24T13:04:08+10:00","alt":null,"width":1080,"height":1080,"src":"\/\/bendbrothers.us\/cdn\/shop\/collections\/3-_76mm_-Pie-Cut-Template-Front-2.jpg?v=1592967849"}},{"id":404895006966,"handle":"tools","updated_at":"2023-12-01T12:09:19+10:00","published_at":"2023-05-30T13:22:22+10:00","sort_order":"best-selling","template_suffix":"","published_scope":"global","title":"Tools","body_html":""},{"id":392462008566,"handle":"trade-all","title":"Trade all","updated_at":"2023-12-11T22:50:20+10:00","body_html":"","published_at":"2022-03-28T11:57:41+10:00","sort_order":"best-selling","template_suffix":"","disjunctive":false,"rules":[{"column":"tag","relation":"equals","condition":"Trade-all"}],"published_scope":"web"}]